As we approach the end of the year, the floodgates of back-to-back marketing campaigns open and we're whisked away into another season of holiday gifting and shopping. While you're busy racking your brains on how you can make this year's marketing end off with a bigger bang than the last, here are 4 strategies to help boost your already awesome plans!
1. Make Your Loyal Customers Feel Loved 
You don't need a reason to reward your loyal customers. But if you're really looking for a compelling excuse to make your long term fans feel appreciated – it's the season of giving and who doesn't love gifts? 
Holiday season is the perfect time for brands to enhance relationship marketing. Design and launch a CRM marketing campaign for your most valuable customers with a free gift or exclusive promotion. Make the redemption campaign simple by adding a delightful note to your SMS or email message:
"We've reserved a special gift for you this holiday season. Tell us when you would like to pick it up." Provide a link to confirm the redemption with a web form to update the customer profile. You can even set a quota for redemption at different outlets to divert traffic and ease the operational burden for crowded stores.
2. Create a Festive Email Campaign To Raise Awareness and Engagement 
Through the hustle and bustle of the holiday season, build a consistent content marketing strategy with creative design to cut through the clutter and catch the attention of your customers. Of course there will be offers and rewards, but go the extra mile with content marketing to provide gifting ideas, a holiday guide with curated items, suggesting exciting holiday activities. Keep each marketing message clear and succinct in your communication strategy and consider using a combination of channels – email, SMS, WhatsApp etc – to enhance the brand engagement experience.
Want to learn how you can improve your email marketing response rate, check out these 5 practical tips to help you get started in a jiffy.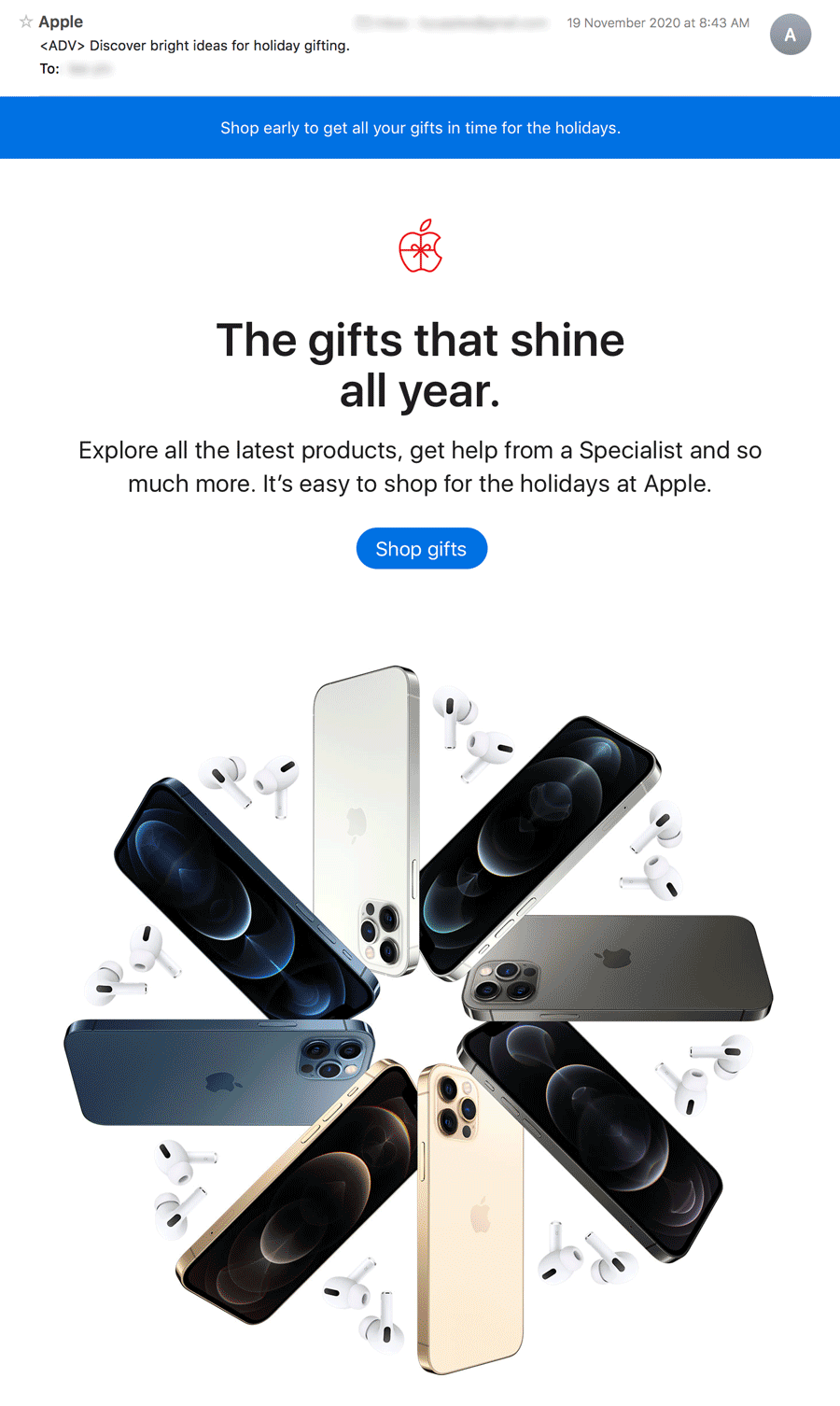 Every Christmas, Apple will prepare a gift guide to users ahead of time with a reminder closer to date – this enables them to maintain top-of-mind awareness amongst both early birds and last-minute shoppers.
3. Craft The Right Marketing Message at The Right Time 
Just because it is the season to be jolly, does not imply all your marketing messages have to be sales and further sales. We have all been exposed to the quirky ads during 11.11, Black Friday, Christmas campaigns in December. Take a fresh approach with your communication – craft the right message, at the right time for your target audience. 
As we approach the holiday season, create content strategies that focus on product curation and holiday guides. Then introduce your festive offers with personalised messages for different target segments. Finally, communicate a sense of urgency for the late shoppers who are still looking for the best deals. The right approach will drive traffic to your store or even online shop. Consider running a flash "complimentary delivery" sale to accelerate your marketing efforts and capture the last-minute holiday purchases.
Finally, apply the tactics across communication channels – email, SMS, social media posts and ad copies for search campaigns. The impact with this approach can generate business results and value insights to fine tune your next marketing campaign.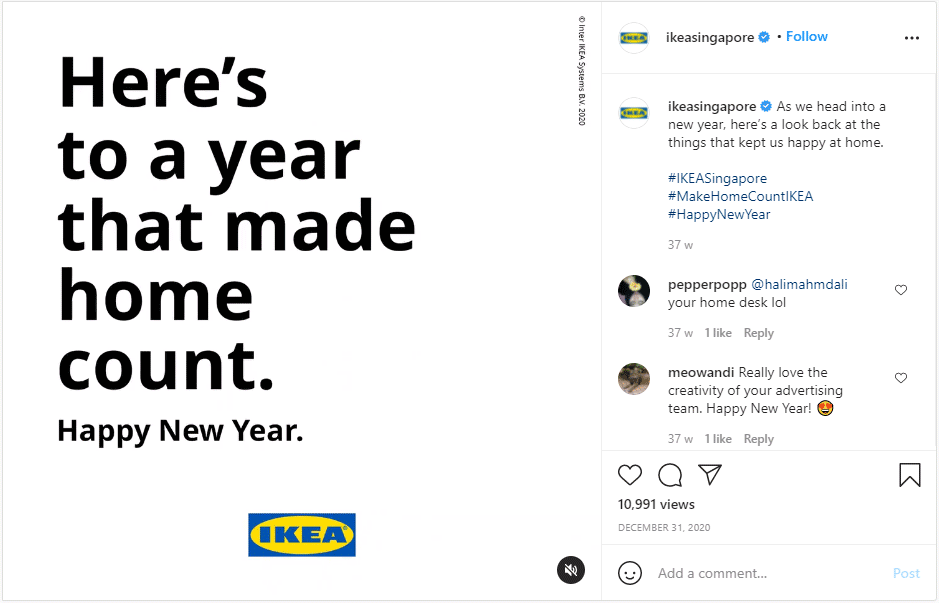 IKEA keeps their creatives simple, with light-hearted messaging – this allows for quicker turnaround and they can also seamlessly weave in product placement at the same time.
4. Experiment With Novelty Marketing Tactics 
The cost of media investments tend to peak during the festive periods as brands compete for share of voice (SOV) in both traditional and digital media – Facebook, Instagram, YouTube, Display, in the streets, paid media, earned media, shared media… It's noisy and you will need to stand out from the cluttered marketing messages.
Take a refreshing approach this holiday season to create memorable campaigns. Apart from your brick-and-mortar stores, open a new sales channel with ecommerce if you do not already have one. If you're concerned that it takes forever to launch ecommerce, you're probably new to the concept of headless commerce architecture. Using an all APIs approach to build an online store, brands have successfully reduced the deployment of ecommerce from months to just days. Use this opportunity to grow your online presence and experiment with a whole new O2O strategy that could not have been possible just a few years ago. 
Apply the above simple strategies to kick start your holiday marketing campaigns. Design each campaign with a customer centric approach and you'll create a delightful experience when they engage with your brand. As Mark Twain once said, "The secret of getting ahead is getting started." If you haven't already started planning for the upcoming holiday season, no pressure – but you might want to start NOW for Winter is coming. Running out of ideas? We're just a phone call or an email away.